Top Story
WAZER Offers Desktop Take on Traditional Water Jet
March 19, 2019
WAZER offers sophisticated cutting and material processing capabilities at a price point and with the accessibility of desktop office printers.
Hurco Introduces the VMXDi Series of CNC Machines
August 6, 2019
With the new direct drive spindle, the VMXDi series has a better surface finish, quieter spindle and less head growth, the company adds.
Milltronics USA Introduces the VM8434XP Performance Vertical Machining Center
August 6, 2019
The Milltronics XP Series CNC machines are #50 taper vertical machining centers designed for applications that need extra cutting power.
New hyperMILL 2019.2 CAD/CAM Suite Offers Smoother Surfaces, Increased CAD-to-CAM Integration
July 22, 2019
The latest hyperMILL software has a range of new features including high-precision 3D finishing and 5-axis tangent machining.
NCG CAM Solutions Celebrates 10 Years with Record Sales Growth
July 2, 2019
End-of-year sales figures have shown a leap in sales, with growth of 41% compared with last year, according to the company. 
NCDMM Opens New Huntsville, Ala., Office to Support U.S. Army
June 17, 2019
NCDMM welcomes Mike Docherty as director of Manufacturing Technology to lead Huntsville office.
America Makes TRX+ @NIAR Technical Review and Exchange Event Headed to Kansas
June 14, 2019
Speakers at the two-day event include Cindy Ashforth of the Federal Aviation Administration, Chris Holshouser of NIAR, and Doug Hall of Battelle.
ZWSOFT Launches ZW3D 2019 SP CAD/CAM Solution
May 30, 2019
It introduces features and enhancements that respond to users' requests, delivering a more user-friendly CAD/CAM solution.
Hexagon's Manufacturing Intelligence Division Breaks Ground on New Center in Detroit Area
May 7, 2019
Hexagon's Manufacturing Intelligence division is constructing a new expansion project on a site in Novi, MI, slated for completion in the fall of 2019.
OPEN MIND/ hyperMILL Announce Joint 5-Axis Machining Technology Seminar with GROB Systems
April 26, 2019
During the seminar, experts from GROB Systems and OPEN MIND will demonstrate ways for manufacturers to make their production facility more efficient.
Hexagon Releases Latest Update of EDGECAM
April 25, 2019
New release supports fast 5-axis machining tools; software features barrel cutter support and new gun drilling cycle.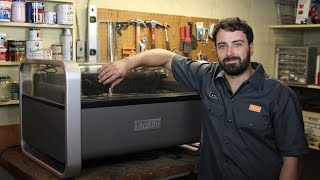 WAZER Offers Desktop Take on Traditional Water Jet
March 19, 2019
WAZER offers sophisticated cutting and material processing capabilities at a price point and with the accessibility of desktop office printers.
CNC Software Updates Name of Wildest Parts Competition
March 15, 2019
Masters of CAM is an online platform for Mastercam users to submit stories about their experience and skills using CAD/CAM software to design and machine parts.
MecSoft Releases AlibreCAM 2019
March 5, 2019
This is the latest version of MecSoft's fully integrated CAM solution for Alibre Design 2018.
ZW3D Review: Model and Manufacture
February 1, 2019
ZWSoft updates its all-in-one CAD/CAM program.
ZW3D 2018 Review: Model and Manufacture
December 19, 2018
One of the things that sets ZW3D apart from most of its competitors is the fact that it integrates both CAD and CAM tools in a single package.
Latest News
Chaos Group previews Project Lavina, SimScale releases radiation simulator, Onshape recognized by World Economic Forum
In this episode of DE News Roundup, Chaos Group previews Project Lavina for real time ray tracing, SimScale releases radiation...
AMD Radeon Pro Software for Enterprise 19.Q3 Is Optimized for Professional Applications
The latest driver also continues to prove the value of updating professional drivers, with Day Zero certifications to help ensure...
Moldex3D Partners with Wittmann Battenfeld on LSR Injection Molding and Smart Manufacturing
The memorandum of understanding is aimed at bringing together both parties' extensive knowledge and technical expertise to advance the role...
Siemens Debuts More Tire Modeling Capabilities in Real-Time Environments
The Simcenter Tyre team releases MF-Tyre/MF-Swift 2019.1 with more possibilities to test with MSC ADAMS.
All posts