Top Story
Redesigning CAD for Mixed Reality
February 1, 2020
Break old habits while inventing new practices at the same time.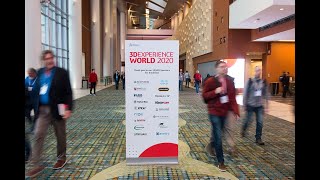 3DEXPERIENCE World 2020 Highlights, Altium Launches Web-based PCB Viewer, AMD Releases Radeon Pro W5500
February 20, 2020
SolidWorks World returns under parent company Dassault Systemes' 3DEXPERIENCE Brand
Elysium's Solution Supports Dassault Systèmes' 3DEXPERIENCE in the Digital Supply Chain
February 19, 2020
Greater automation helps users save time and achieve the benefits of MBD/MBE in multi-CAD environments, companies say.
Xometry Price Quotes Available in SOLIDWORKS, CATIA
February 14, 2020
Integration provides MAKE Marketplace quotes for manufacturing parts directly in the design environment.
Dassault Systèmes and Xometry Partner to Offer Instant Part Production in Design Environment
February 13, 2020
Xometry is Dassault Systèmes' first "prime partner"—a new category of partners providing buying experiences to users of MAKE Marketplace, Dassault Systèmes' on demand manufacturing service.
Editor's Picks: Feb. 6-12, 2020
February 13, 2020
One of the picks will be chosen as DE's Editor's Pick of the Week.
Dassault Systèmes Introduces 3DEXPERIENCE WORKS to Bring Value to the Creative Process
February 11, 2020
With the new design applications, SolidWorks users can develop new customer experiences with seamless collaboration, embedded data management, and automatic software updates, the company says.
TECHNIA Signs SolidWorks Distribution Agreement With Dassault Systèmes
February 11, 2020
TECHNIA currently distributes Dassault Systèmes' 3DEXPERIENCE platform and various applications such as CATIA, BIOVIA, DELMIA, ENOVIA, SIMULIA and more.
Sponsored Content
SolidWorks 2020: Large Assemblies, Faster Performance
February 7, 2020
Enhanced Graphics Performance streamlines workflows for complex assemblies.
Redesigning CAD for Mixed Reality
February 1, 2020
Break old habits while inventing new practices at the same time.
Virtually Trained
February 1, 2020
Still using textbooks and whiteboards? AR/VR-assisted learning is faster, more effective and less expensive.
Mixed Experiences Ring in New Era of Design Collaboration
February 1, 2020
AR/VR brings enhanced visual context to design collaboration, reducing time-to-delivery cycles and resulting in better products.
Consumers Are Hungry for Personalized Products
January 22, 2020
Dassault survey uncovers an increasing appetite for product personalization, raising the stakes for engineers.
Dassault Systèmes Launches "Sustainability Challenge" for Students to Rethink the Use of Plastics
January 14, 2020
The Sustainability Challenge—developed in collaboration with the Prince Albert II of Monaco Foundation—enables students to exercise skills in design, engineering and value proposition creation with 3D digital technology.
RIZE Partners with Dassault Systemes
December 29, 2019
The jointly offered solution will enable users of Dassault Systèmes' 3DEXPERIENCE platform to leverage RIZE 3D Printing technology to build intelligent parts with smarter workflows.
Graebert to CAD Vendors: We Can Take You to the Cloud
December 5, 2019
Graebert conference presents the company's expanded vision for the cloud-based CAD technology.
Latest News
CAASE 2020 Preview: Boosting Diversty in Computer Science and Engineering
Simulation conference keynote speaker discusses ways to increase diversity in computer science and engineering
Arburg Owners Purchase 3D Printing Startup German RepRap
The new owners have confirmed German RepRap will continue to operate as a separate start-up.
Nano Dimension Moves its Main Commercial Activity to USA
Nano Dimension will be able to better serve its customers through its new training and demo center.
Sponsored Content
Passively Cooled Quadro RTX 8000 and RTX 6000 GPUs Optimized for the Data Center
The demand for visualization, rendering, data science and simulation continues to grow as businesses tackle larger, more complex workloads than...
All posts