Top Story
Coronavirus Updates: Latest Tech Show Cancellations or Postponements
September 28, 2020
Periodically updated list of engineering, manufacturing, and technology shows cancelled or postponed due to coronavirus concerns
Coronavirus Updates: Latest Tech Show Cancellations or Postponements
September 28, 2020
Periodically updated list of engineering, manufacturing, and technology shows cancelled or postponed due to coronavirus concerns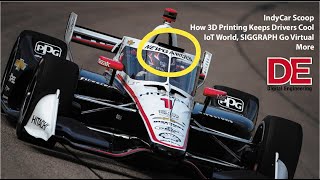 IndyCar Scoop on How to Keep Drivers Cool, IoT World and Siggraph Go Virtual, More
August 20, 2020
In August 20 Episode of DE News Roundup, 3D printed device keeps cockpit cool at IndyCar, IoT World and Siggraph go virtual, SimulationHub uses CFD design airborn contagion isolation rooms
IoT World Virtual: COVID Cements the Need for Connectivity, Digitization
August 12, 2020
Annual IOT conference examines how COVID rehapes digitlization projects, data analytics, and digital twin adoption
IoT World 2018: Devices without Data are Dead
May 18, 2018
IoT World 2017: Hungry for Data, Learning from AI, Learning to Read Emotions
May 25, 2017
IOT World 2016: Using Artificial Intelligence to Harvest Business Intelligence
May 17, 2016
Latest News
Bentley Systems Expands Alliance With Microsoft 
End goal is to accelerate infrastructure digital twin innovations.
GoProto Introduces New 3D Printing Parts Service
Service features elastomeric TPA (thermoplastic polyamide), enabling the production of rubber-like parts that was otherwise unachievable by traditional manufacturing methods.
Kubotek3D Releases KeyCreator 2021
Release said to offer efficient and agile CAD tools for manufacturing.
Honeywell Embarks on Strategic Initiative With Ansys
Through a multiyear agreement, Ansys is providing Honeywell with solutions that span the engineering design chain.
All posts