Top Story
Jay Leno's Garage Gets 3D Printing Part Boost
The ability to churn out on-demand 3D custom parts helps keep classic cars on the road.
New Innovation Campus will include a 30-acre additive manufacturing center.
Resources
Accelerating PBFAM Development and Use Through Open Source Systems
An Open Architecture Framework Enables the Use of PBFAM for Development Opportunities and Custom Applications.
More 3D Printing Resources
Sponsored Content
Digital Twin Continues to Proliferate Software and Digital Industries
December 10, 2019
From the ancient Pythagorean Cup to the ultra-modern rocket launchers, all with Simcenter and all in this issue of Engineering Innovation.
SPACE 3D Launches and Makes Large-Scale SLA 3D Printing Affordable for Everyone
December 9, 2019
Now, beginners, hobbyists and professionals can achieve fast, high-resolution and large-scale SLA 3D printing.
Jay Leno's Garage Gets 3D Printing Part Boost
December 9, 2019
The ability to churn out on-demand 3D custom parts helps keep classic cars on the road.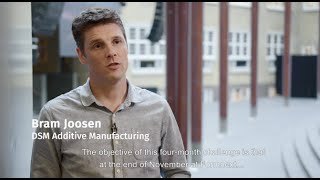 I AM Tomorrow Challenge: DSM and Partners Present Digital Platform for Additive Manufacturing
December 9, 2019
Start-ups and partners in six-month challenge introduce digital workflow to boost adoption of additive manufacturing through digital design and simulation.
Simulation Leader Introduces Generative Design Engine
December 4, 2019
The product combines the intuitive Apex interface with a new generative design engine and the manufacturing knowledge of MSC Simufact and MSC Digimat for build process simulation.  
Sponsored Content
Editor's Pick: Bridging the Gap Between Design and Additive Manufacturing
December 4, 2019
MSC has built Apex Generative Design with a goal of improving productivity up to 80% compared to existing workflows. 
Markforged Appoints Shai Terem as President and COO
December 4, 2019
Industrial additive manufacturing veteran to oversee go-to-market, finance, people and operations teams at Markforged.
SLM Solutions and Honeywell Partner to Qualify AM Technology
December 3, 2019
The partnership reportedly will help both companies reduce printing times and costs. 
BASF Acquires 3D Printing Service Provider Sculpteo
November 27, 2019
Acquisition said to provide access to new materials and technologies for customers of BASF and Sculpteo.
America Makes and Air Force Research Laboratory Launch an AM Modeling Challenge Series
November 27, 2019
Goal of the AFRL AM Challenge Series is to predict the internal structure and resultant performance of metallic components produced by AM.
DSM and Shapeways Partner to Develop Scalable 3D Printing Solutions
November 25, 2019
The partnership between DSM and Shapeways will allow DSM to continue its ongoing commitment to building a 3D printing ecosystem using Shapeways' technology, the companies report.
Stratasys Introduces Work Order Management Software
November 25, 2019
New GrabCAD Shop simplifies 3D printing workflow.
Optomec Releases AutoCLAD Additive Repair Automation Software
November 25, 2019
Vision and Toolpath Software offers automated Feature Detection and Distortion Compensation.
Additive Industries Launches Cooperative to Reduce Cost of Consumables for 3D printing
November 22, 2019
The Additive Manufacturing Quality Co-operative is a not-for-profit entity that unites the customers of Additive Industries.
Desktop Metal Launches Metal Binder Jetting System Made for Machine Shops
November 22, 2019
Shop System enables batch production of high-quality metal parts on the shop floor starting at $150,000.
Latest News
Sponsored Content
OMNIS—Solving Your Toughest Industry Challenges
An end-to-end CAE environment from design to analysis and optimization.
New GPU Enters the 7nm Realm 
The graphics processing unit can do more work per watt and do it faster than the previous generation technology.
Editor's Pick: Engineering GPU with World-First Specs 
AMD Radeon Pro W5700 is a professional PC workstation graphics card designed for 3D designers and engineers using 7nm technology.
Sponsored Content
Digital Twin Accelerates Product Development
Engineer your innovations with Simcenter.
All posts