Top Story
Perfecting Productivity With Proper Workstation Peripherals
Engineering power isn't just in the workstation; the right monitor and mouse also make the difference.
Interactivity and built-in compute power bring the latest incarnation of the company's technology to a whole new level.
Sponsored Content
A New Look at Workstation Displays
January 15, 2021
Higher resolutions, better color and more connectivity options can boost engineering productivity.
Perfecting Productivity With Proper Workstation Peripherals
June 15, 2020
Engineering power isn't just in the workstation; the right monitor and mouse also make the difference.
Looking Glass Factory Launches Oversize Holographic Display
November 12, 2019
Looking Glass Factory releases 32-in. holographic display called Looking Glass 8K
Epson Announces SureColor T3170x Compact Printing Solution with Refillable Ink Tanks
October 3, 2019
New 24-in. wide format wireless printer offers fast, precise printing in a space-saving design, company says.
Epson Introduces SureColor T5470M 36-In. Printer and Integrated Scanner
July 8, 2019
Wide-format print/copy/scan solution delivers collaboration for businesses in a space-saving design.
The Looking Glass Factory Launches Standalone Desktop Holographic Display
June 10, 2019
The Looking Glass Factory launches desktop holographic display box with built-in computing power
Editor's Picks: May 30-June 5, 2019
June 6, 2019
One of the picks will be chosen as DE's Editor's Pick of the Week.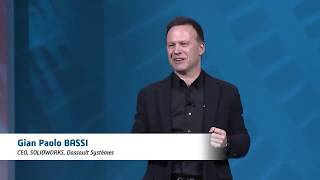 DE News Roundup: SolidWorks World 2019 Recap
February 15, 2019
Kenneth Wong narrates the top video news from this week at SolidWorks World 2019.
3Dconnexion Devices Now Compatible with SolidWorks xDesign
February 12, 2019
The update will take effect after SolidWorks World conference.
3D Mice Improve Ergonomics at CAD Workstations, Study Shows
December 20, 2018
3Dconnexion, a manufacturer of ergonomic input devices for CAD and 3D professionals, commissioned the Fraunhofer Institute for Industrial Engineering (IAO) to carry out a scientific study on working with a 3D mouse.
Canon Redefines the Large-Format Printer with imagePROGRAF TM Series
October 8, 2018
The TM Series is designed to offer a solution for technical documents, such as CAD drawings and GIS maps, and also short-term outdoor posters, signage and displays with the use of Canon's LUCIA TD water-resistant pigment ink.
Epson Extends Line of Wide-Format Printers
October 8, 2018
Epson further expands SureColor T-Series wide-format printer line with two high-production wireless workgroup printers. The 24-Inch SureColor T3470 and 36-Inch SureColor T5470 offer precise printing and features for workgroup productivity.
Add Visual Velocity to Boost Engineering Productivity
August 13, 2018
Research proves importance of displays to productivity as 4K resolution becomes standard.
What's New in Large-Format Printers?
August 1, 2018
Be able to answer important questions prior to making an investment.
Epson Debuts T-Series Wireless Technical Printers
July 11, 2018
SureColor T3170 and T5170 wireless technical printers said to offer speed in a sleek, compact design for engineering communities.
Latest News
Siemens, IBM, Red Hat Launch Hybrid Cloud Initiative
Siemens to adopt Red Hat OpenShift for its MindSphere Platform used by manufacturers globally.
Editor's Pick: Customer input drives updates
IronCAD Mechanical 2021 is an add-on productivity module in the IronCAD Productivity Suite.
Markforged Goes Public via Merger With One
Combined company expected to have equity value of approximately $2.1 billion with approximately $400 million in net cash to fund growth strategy...
Simulating the Way to COVID Safety
MSC Cradle CFD simulation explores the impact of ventilation and social distancing on in-door dining scenarios to promote safe practices...
All posts