Top Story
AU 2019: Partnership with ANSYS, Free Generative Design Tools, Jumping on the Virgin HyperLoop, More
Autodesk University highlights, update on the Autodesk-ANSYS partnership, Free Generative Design tools for subscribers, more
Generative design and simulation software makers add features to address metal AM.
Resources
Technology Focus: Designing for Optimization & Simulation
Simulation is pervasive, with people from different departments and backgrounds discovering new ways to put it to use, in all of its varied forms.
Featured Companies
Simulation Leader Introduces Generative Design Engine
December 4, 2019
The product combines the intuitive Apex interface with a new generative design engine and the manufacturing knowledge of MSC Simufact and MSC Digimat for build process simulation.  
Sponsored Content
Editor's Pick: Bridging the Gap Between Design and Additive Manufacturing
December 4, 2019
MSC has built Apex Generative Design with a goal of improving productivity up to 80% compared to existing workflows.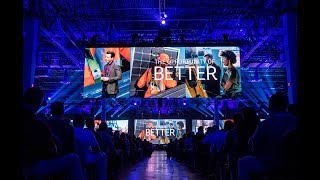 Autodesk discusses partnership with ANSYS at AU 2019, offers free generative design tools, more
December 2, 2019
Autodesk and ANSYS affirm partnership, Autodesk offers free generative design tools, React Robotics design in Fusion with Lenovo workstations, more
AU 2019: Partnership with ANSYS, Free Generative Design Tools, Jumping on the Virgin HyperLoop, More
November 26, 2019
Autodesk University highlights, update on the Autodesk-ANSYS partnership, Free Generative Design tools for subscribers, more
Sponsored Content
Editor's Pick: Tap Into More Powerful Simulation of Coupled Multiphysics Phenomena 
November 20, 2019
New features in COMSOL Multiphysics Version 5.5 include simplified shape and topology optimization; new options for nonlinear shell analysis; a new interface for pipe mechanics; and more.
ParaMatters Launches CogniCAD 3.0 at Formnext 2019
November 14, 2019
ParaMatters expands Its generative design and manufacturing cloud solutions with new release.
A Computational Modeling Platform for Building High-Performance Parts Faster 
November 13, 2019
nTopology nTop Platform 2.0 is software made for advanced manufacturing design. 
Sponsored Content
Editor's Pick: Automate New Design Space Workflows
November 13, 2019
nTop Platform 2.0 designed to help engineers design high-performance parts faster.
AM Simulation Gets More Complex with Metal
November 1, 2019
Generative design and simulation software makers add features to address metal AM.
Designing with AM in Mind
November 1, 2019
Designers and fabricators must support one another to avoid print failure.
Designing Machines in the Age of the IIoT
October 1, 2019
To design equipment for the new digital age, engineers are reinventing the product design process.
ASSESS Initiative Publishes Strategic Insight Paper on Generative Design
September 19, 2019
The ASSESS Initiative is planning on publishing Strategic Insight papers related to various themes.
Partner Content
Made in Metal but Lighter
September 12, 2019
As Metal AM Attracts Attention, the Need for Simulation Grows.
Autodesk Fusion 360: Getting Better All the Time
September 1, 2019
Autodesk consolidates Fusion 360 into a single, more powerful package.
Generation Gap
September 1, 2019
Bye bye, baby boomers. Move over millennials. Engineering software gears up for Gen Z.
Latest News
Sponsored Content
OMNIS—Solving Your Toughest Industry Challenges
An end-to-end CAE environment from design to analysis and optimization.
New GPU Enters the 7nm Realm 
The graphics processing unit can do more work per watt and do it faster than the previous generation technology.
Editor's Pick: Engineering GPU with World-First Specs 
AMD Radeon Pro W5700 is a professional PC workstation graphics card designed for 3D designers and engineers using 7nm technology.
Sponsored Content
Digital Twin Accelerates Product Development
Engineer your innovations with Simcenter.
All posts