Resources
Digital Engineering April 2022
Our April issue focuses on generative design, including AI and generative design, automotive DfAM, 5G simulation, and updates from recent Dyndrite, Onshape, and additive manufacturing events.
Featured Companies
Reimagining the Iconic Japanese Sword Handle and Display Stand with Generative Design Tools
June 24, 2022
Japanese designer Yasuhide Yokoi collaborate with master swordsmith Masao Manabe to reshape the iconic Japanese sword handle and display stand with Generative Design software.
Editor's Pick: Accelerating lattice generation
June 21, 2022
nTopology third generation update features fundamental rewrites to its core software, which nTopology says improves the existing product.
Editor's Picks: June 1-14, 2022
June 16, 2022
One of the picks will be chosen as DE's Editor's Pick of the Week.
nTopology Unveils New Latticing Technology
June 7, 2022
The new latticing tools, according to the company, are easy to use, faster than previous generation offerings.
PTC Creo 9 Now Available
May 5, 2022
Core enhancements enable better designs in less time, company reports.
Has Software Failed AM?
May 2, 2022
Examining the design and simulation software makers' efforts to catch up with advances in 3D printing hardware.
A Golden Age of GPUs for Design Engineering
May 2, 2022
How far can GPU acceleration go in enhancing design and simulation applications?
Technology Awakening
April 27, 2022
Without a doubt, technology has shaped the world we find ourselves in, made the world better, but has also left us unprepared for the world's latest series of catastrophes.
Automotive Companies Steer Toward DfAM
April 19, 2022
Up and down the automotive supply chain, engineering organizations are turning to AM and DfAM principles to gain an edge on electrification and lightweighting design goals.
AI, Generative Design and the Next-Gen Engineer
April 12, 2022
Increasing adoption of AI, ML and generative design makes engineers curious what the technology means for the future of design.
Diabatix Coldstream 2 Coming Out
April 4, 2022
This software is a thermal optimization platform combined with built-in computational fluid dynamics.
New SolidWorks CEO Discusses AI, Generative Design, Virtual Twins
March 11, 2022
Long-time R&D veteran Manish Kumar steps up to become CEO, envisions natural interactions driven by AI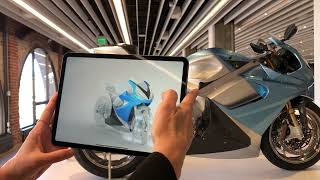 San Francisco-based Autodesk Gallery reopens
March 9, 2022
The newly reopenned San Francisco-based Autodesk Gallery exhibits highlight AR/VR apps for real-time CFD, generative design projects.
The Importance of Lattice Structure in Design Engineering
February 2, 2022
Using lattices in your design structure can expand your design freedom and help create more economical products and designs.
AI Scale-up Diabatix to Boost Growth in Generative Thermal Design
January 6, 2022
The company, which closed a funding round with Saffelberg Investments, plans to expand the growth of its ColdStream platform.
Latest News
Rensselaer Polytechnic Sets Up Institute for Advanced Computing
DAIC plans to innovate quantum computing and edge computing for cyberphysical systems, and hacker-proof quantum communications.
Lenovo Small but Power-Packed Desktop Workstation
ThinkStation P360 Ultra houses latest Intel Core processor, Nvidia RTX A5000 GPU, support for eight monitors.
Siemens' NX Delivers Cross-Discipline Collaboration
Part of the Siemens Xcelerator portfolio of software and services, NX delivers productivity and user-experience enhancements, the company reports.
Collins Aerospace Opens Additive Manufacturing Center
The company also expands maintenance, repair and operations capabilities.
All posts