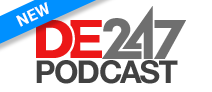 Listen in to
DE's new podcast channel.
Find us on
Apple Podcasts
,
Google Play Music
or Subscribe
via RSS
. Subscribe
via iTunes here
.
Check out our latest episode
.
Purdue University Uses Machine Learning to Classify Mechanical Objects
November 20, 2020
Purdue University mechanical engineers creates comprehensive open-source annotated database of more than 58,000 3D mechanical parts
Podcast: Desktop Metal AM 2.0, Going Public, More
September 21, 2020
Metal AM hardware maker discusses the technology's transition from prototyping to manufacturing
Podcast: Autodesk's Lisa Campbell discusses AU Virtual, Subscription Model, Pandemic's Impact
September 17, 2020
Autodesk's Chief Marketing Officer Lisa Campbell on going virtual with AU, customer adoption of subscription model, more
3MF Joins Linux Foundation: How Will This Change Your 3D Printing Workflow?
August 11, 2020
3MF Consortium's Exec. Director Luis Baldez discusses STL vs. 3MF, benefits of joining Linux Foundation, and more
Fictiv, Xometry Discuss Manufacturing Interruptions from COVID 19
July 28, 2020
On-demand manufacturing service providers urge supply chain shuffling, seeking local partners closer to home.
Podcast: CT Scanning Improves Product Quality
July 21, 2020
In our latest podcast, Ashley Bray of Volume Graphics describes the benefits of CT scanning for inspection and quality analysis, as well as how the technology combined with the right software can bridge the gap between simulation and reality.
PODCAST: Shutdown's Impact on Workstation Purchase, Electronics Manufacturing
July 16, 2020
Lenovo and MacroFab discuss mobile workstation sales and PCB production during the new normal
OVR: Stop and Smell the Roses in VR
June 15, 2020
Company aims to augment VR with sense of smell via its Architecture of Scent system.
DE Podcast: Analyst Jon Peddie Explains COVID-19's Effect on the GPU Market
June 4, 2020
JPR releases graphics market report for 2020 Q1, shipments down, growth blunted by Coronavirus and shutdowns
DE Podcast: Reexamining the Role of Digital Twins in the Era of Social Distancing
June 3, 2020
Ansys discusses the use of digital twins in engineering projects while following social distancing rules
Sponsored Content
Enabling Simulation-Driven Design
May 26, 2020
In our latest podcast, Digital Engineering talks to COMSOL's Phil Kinnane about democratization of simulation.
Expanding Role of Tolerance Analysis
May 21, 2020
In our latest podcast, Digital Engineering talks to Ed Walsh, VP of Global Sales at Sigmetrix, about the expanding importance of tolerance analysis.
Harvey Mudd College Professor on Teaching Robotics, Circuit Design in Lockdown
May 11, 2020
Harvey Mudd College Professor continues teaching circuit design and robotics lab courses under lockdown using take-home Arduino kits
COVID-19 Impact on AR/VR a Mixed Bag: Interview with Lenovo
May 7, 2020
Lenovo Commercial ARVR Lead Discusses Coronarivus Impact on Business, training and remote assistance emerges as solid deployment reasons
Sponsored Content
Siemens Keeps Engineers Connected During Pandemic
April 29, 2020
Digital Engineering talks to Siemens' Brenda Discher about the company's efforts to support customers during the COVID-19 pandemic.
Latest News
IronCAD 2021 Makes Its Debut
Updated features include user interface improvements, sheet metal design enhancements, 2D technical drawing advances and more.
Product Design: What is Next?
Onshape founder John McEleney Takes a look at the future of design software.
Design Software Training Evolves in the Pandemic
Professional training providers IMAGINiT and SolidProfessor discuss the transformation of CAD classes during the Coronarivus outbreak.
Tech Trends Not Expected to Happen in 2021
Environmentally friendly 5G, explainable AI, mainstream virtual reality, and Wi-Fi 6E are just a few trends not expected to arrive...
All posts