Top Story
Additive Manufacturing is Leaving the Island
With 3D printing growing increasingly mainstream, manufacturing execution systems are a tool against equipment downtime and production floor chaos.
Software-integrated plug-ins and online analysis pave the way for on-demand manufacturing.
Featured Companies
SCHOTT SYSTEME Reduces 5-Axis Milling Times
April 3, 2020
It uses Interactive Direction Vectors within its Pictures by PC CAD / CAM Software.
Editor's Picks: March 26-April 1, 2020
April 2, 2020
One of the picks will be chosen as DE's Editor's Pick of the Week.
ASCENT Publishes New Learning Guide
April 2, 2020
Students, trainers and industry professionals can now learn how to use Inventor CAM to create 2D milling toolpaths.
Mastercam 2020 Multiaxis Machining Improves Productivity 
March 27, 2020
Mastercam Multiaxis offers a wide range of multiaxis machining strategies, both basic and advanced.
3Diligent Helping Coordinate Digital Manufacturing Response to COVID-19
March 27, 2020
Company is coordinating rapid manufacturing of PPE to ensure supply meets demand.
SolidCAM and Roboris Join to Integrate G-Code Simulation with SolidCAM
March 16, 2020
Under the agreement, SolidCAM will widen its offer with a new module, powered by the Eureka library.
D3 Technologies Debuts New PowerMill and FeatureCAM Training Courses
March 13, 2020
Companies can use this technology to accelerate their toolpath calculations and roughing. 
New hyperMILL 2020.1 CAD/CAM Suite Offers 3D and Five-Axis Machining Enhancements
February 21, 2020
The new version includes key new automation and additive manufacturing strategies.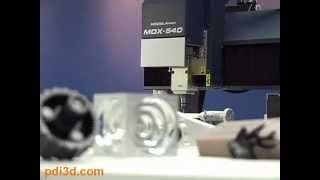 Sponsored Content
Rapid CNC Prototyping—On the Desktop
February 3, 2020
Product Development Inc. has put together an article and infographic explaining exactly how the line of Roland desktop prototyping CNC machines the company offers can eliminate many of the pain points involved in this process.
Siemens NX CAM Unveils Updated Capabilities in New Release
January 29, 2020
The software can accelerate machining, program multiple robots, print color parts and generate production-ready CNC programs using a cloud-based technology.
Hexagon Launches Latest SURFCAM Software with Raft of Enhancements 
January 21, 2020
There are updates to machining cycles, tombstones and additive machining.
CAMWorks Version 2020 Provides CADCAM Tools for Smart Manufacturing
December 20, 2019
With Version 2020, the CAMWorks Additive Manufacturing module, powered by Materialise, has extended 3D printing functionality to SolidWorks Assemblies.
ModuleWorks Unveils 2019.12 CAD/CAM Components
December 20, 2019
This is the third major release of 2019 and is available now for download from the ModuleWorks website.
Latest NCSIMUL Features Three Enhancement Areas
December 6, 2019
Zoom on specific tool for clear vision of machining process.
Mastercam Launches Signature Parts Series for Manufacturing Community
November 19, 2019
The series was initiated to showcase how Mastercam works throughout the manufacturing process using realistic parts.
Latest News
TAKE OUR POLL: How Has COVID-19 Affected Engineering Productivity?
Take our short poll and share your own experiences.
Engys Releases ELEMENTS v3.2.1
Release focuses on advanced open-source CFD for automotive design.
Eurocom's Technology Enables Firms to Have IT Infrastructure on the go
Server-on-the-Go technology is perfect for companies who are looking to expand their capabilities outside of their already established office infrastructure
SCHOTT SYSTEME Reduces 5-Axis Milling Times
It uses Interactive Direction Vectors within its Pictures by PC CAD / CAM Software.
All posts