IronCAD 2021 Makes Its Debut
December 1, 2020
Updated features include user interface improvements, sheet metal design enhancements, 2D technical drawing advances and more.
Safran Transmission Systems Picks MSC Software to Manage Simulation Data
November 24, 2020
Web-based simulation and test data management system addresses all phases from project initiation through product launch and beyond.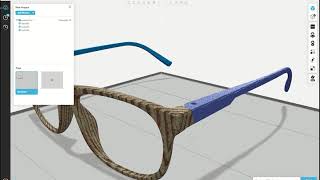 GrabCAD Print Integrates With KeyShot Rendering Software
November 24, 2020
KeyShot by Luxion is real-time 3D rendering software that allows for intuitive designs and renders.
Theorem Solutions Debuts V23.3 CATIA V5 TO CREO Release
November 23, 2020
The CADverter product translates assembly structure, geometry, attributes and where available 3D Product Manufacturing Information (PMI) and Metadata between CATIA V5 and Creo
Luxion Releases KeyShot 10
November 23, 2020
KeyShot 10 adds new ​Keyframe Animation and other animation capabilities, new ​Smart Export options for output to full-color 3D prints, AR/Web interaction and more.
PTC and Ansys Link CAD, Simulation
November 23, 2020
New Creo Ansys Simulation brings simulation to the modeling environment.
CADENAS Offers Support via eCATALOGsolutions Platform
November 23, 2020
How component manufacturers can provide their digital product data for common CAE systems like EPLAN, Zuken e3.series, NX Electrical, Automation Designer or AutoCAD Electrical.
Siemens Closes the Loop on AV Development
November 19, 2020
SCAPTOR adds a data collection component to the Simcenter portfolio, accelerating the development of autonomous vehicles.
CNC Cloud App MachiningCloud Launches E-Commerce
November 19, 2020
California-based MachiningCloud continues to expand its online offering of e-commerce tooling partners.
CoreTechnologie Debuts New Additive Manufacturing Software
November 19, 2020
With the new 4D_Additive 3D-Printing software, CAD data is prepared as intelligent, exact B-Rep geometry for 3D printing processes and can be saved in common 3D printing formats as well as STEP.
Introducing the New Atlas 3.6 3D Printer
November 19, 2020
Titan expands its Atlas line of industrial 3D printers featuring dual pellet and hybrid pellet + filament extrusion options.
Theorem Solutions Has Released New Creo to 3D PDF Publisher
November 19, 2020
Theorem's 3D PDF products enable the publishing of 3D Creo data directly from within the design application into an interactive 3D PDF document format, or HTML5 output.
Version 4.0 of M4 ISO Piping Isometrics Software Now Available
November 18, 2020
Create piping isometrics faster and with more detail.
Penguin Computing Offers TrueHPC With NVIDIA Networking
November 17, 2020
Penguin Computing TrueHPC delivers a complete software, hardware and management platform built on compute-optimized hardware and Scyld Clusterware orchestration software, the company explains.
Engys Unveils ELEMENTS v3.3.0
November 16, 2020
Latest offering features advanced open-source CFD for automotive design.
Latest News
IronCAD 2021 Makes Its Debut
Updated features include user interface improvements, sheet metal design enhancements, 2D technical drawing advances and more.
Product Design: What is Next?
Onshape founder John McEleney Takes a look at the future of design software.
Design Software Training Evolves in the Pandemic
Professional training providers IMAGINiT and SolidProfessor discuss the transformation of CAD classes during the Coronarivus outbreak.
Tech Trends Not Expected to Happen in 2021
Environmentally friendly 5G, explainable AI, mainstream virtual reality, and Wi-Fi 6E are just a few trends not expected to arrive...
All posts