Top Story
Meet Trek, With Autonomous Scanning and Data Collection Super Powers
September 2, 2020
The combination of laser scanning and autonomous mobility delivers reality capture for building digital twins.
SMARTTECH3D Premieres New 3d Scanner
October 19, 2020
The new scanner is capturing precise information about the geometries with automatic edge sharpness representation and noise reduction.
EinScan H & EinScan HX Hybrid Light Handheld 3D Scanners Launched
October 13, 2020
EinScan H and HX Handheld Color 3D Scanners are adding a new dimension of 3D Scanning capacity to the EinScan portfolio.
Meet Trek, With Autonomous Scanning and Data Collection Super Powers
September 2, 2020
The combination of laser scanning and autonomous mobility delivers reality capture for building digital twins.
3D Scanning Accelerates Production of Custom Roof Racks 
August 28, 2020
NVision's 3D laser scanning captured the geometry of vehicles' roof profiles and the data was incorporated into the CAD files used to create the custom-fit racks.
A Head for Reverse Engineering
July 14, 2020
Eco-friendly plant holder designer teams with Exact Metrology on reverse engineering project.
Artec 3D Unveils Artec Studio 15 with New Scan-to-CAD Features
May 28, 2020
Scan, create a 3D model and perform scan-to-CAD operations all in one software.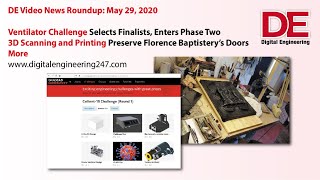 DE Video News Roundup: Update on CoVent 19 Ventilator Design Challenge, 3D Print and Scan in Medieval Church Restoration, More
May 27, 2020
In Video News Roundup for May 29, 2020, the Covent-19 ventilator design challenge enters phase II, 3D printing and scanning firm Prototek helps restore Florence Baptistery cathedral door, Autodesk Fusion 360 adds 3D printing tools, 3D Heals virtual conference set for June
3D Systems Unveils Enhancements to Reverse Engineering Software
May 19, 2020
Unroll/reroll function in Geomagic Design X enables a new modeling workflow for complex revolved parts resulting in a 94% efficiency improvement, company says.
Introducing ATOS Q 3D Scanning
May 8, 2020
It features interchangeable measuring lenses for flexibility and a modern design for portability.
NexTech's 3D AR Capture App "ARitize 360" Now Available for Early-Access Signup
March 6, 2020
The company's new CaptureAR App to facilitate the mass adoption of augmented reality.
Fast 3D White Light Scanning Comes to Hexagon's Absolute Arm
February 28, 2020
Structured light scanning technology comes to portable measuring arms with the new RS-SQUARED Area Scanner.
IDC Forecasts Strong Growth for the 3D Scanner Market
February 3, 2020
An important factor contributing to this growth is the continued migration of professional-level features into more affordable scanners.
nPower Software Partners with Thor3D
January 24, 2020
Partnership opens opportunity for companies to bundle the Cyborg3D MeshToCAD software with the Thor3D hand scanner.
PolyWorks Software Joins the SMARTTECH3D Offer
January 2, 2020
It is a universal metrology software platform that is designed for processing and analyzing three-dimensional data.
NVision Scans Rare Prehistoric Fossils for Texas Museum  
December 6, 2019
The detailed scan data will enable the paleontology museum to 3D-print exact replicas of the fossil for further study and education.  
Latest News
NVIDIA Debuts GeForce RTX 3060 Family for the Holidays
GeForce RTX 3060 Ti delivers ray-tracing and DLSS performance.
Forward AM Launches Ultrafuse Material for Metal 3D Printing
New filament is especially developed for applications requiring high hardness and mechanical strength for various industries.
Varjo Releases VR-3, XR-3
Varjo Releases VR-3, XR-3 . Wider field of view, Ultra HD vision, and depth awareness define 3rd-Gen Varjo headsets.
Kubotek Kosmos 3D Framework 3.0 Released
Build engineering software with fast, interoperable tools available.
All posts