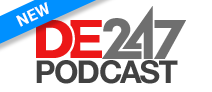 Glossary Spotlight
IoT
The Internet of Things (IoT) is a network comprised of physical objects capable of gathering and sharing electronic information through the Internet.
View IoT term
Glossary
A
B
C
D
E
F
G
H
I
J
L
M
N
O
P
Q
R
S
T
V
Digital Engineering
Featured DE Contributors
Subscribe to Digital Engineering Free E-mail Newsletters
Stay up-to-date, don't miss a single news story or product review, subscribe today.
Latest Posts
Engineering Computing
AMD, Lenovo Introduce 64-Core Workstation
Leonovo P620 poweredy by Ryzen Threadripper PRO Processor
Prototype/Manufacture
HP Donates D300e BioPrinters to NGOs, Universities, and Research Institutions
Company also donates $100,000 (US) to Spanish National Research Council (CSIC) through the HP Foundation to research possible treatments for the...
Promoted Post
Meeting the Challenge of Product Complexity for Global Manufacturers
Using this five step blueprint to create your Digital Thread will help you manage the design, manufacture and sustainment of complex products.
Learn more.
Design
Zuken Releases CR-8000 2020 for Electronic Design
3D multi-board EDA environment features enhancements to schematic design, integration with Keysight and Ansys.
Prototype/Manufacture
A Head for Reverse Engineering
Eco-friendly plant holder designer teams with Exact Metrology on reverse engineering project.
Prototype/Manufacture
Mastercam Featured in TITANS of CNC Aerospace Academy
TITANS of CNC Aerospace Academy is a project-based platform teaching high-level manufacturers the skills necessary to produce complex aerospace parts...
Prototype/Manufacture
Xometry Launches 2D Technical Drawing Marketplace
Custom manufacturing leader offers US shops expanded access to jobs amidst COVID-19 disruptions.
Prototype/Manufacture
Additive Manufacturing Users Group Awards 10 DINOs
In lieu of an on-stage ceremony at the annual AMUG Conference, the DINO award presentations were a virtual event.
Design
OMRON Provides 3D Engineering Data in CADENAS Solutions
Digital product catalog offers important metadata, such as end-of-life information, for industrial automation.
Design
Find CAD Components Easily With Intuitive Search Methods From 3DfindIT.com
3DfindIT.com offers search methods to effectively accelerate design and engineering projects.
PLM
Siemens, SAP Team on Digital Transformation
Integration will link PLM, supply chain, asset management functions.
Simulate
Virginia High School Student Wins Aeronautics Design Competition
The Design/Build/Launch (DBL) competition was sponsored by American Institute of Aeronautics and Astronautics and Blue Origin
Simulate
NAFEMS World Congress 2021 Issues Call for Papers
Salzburg event will provide in-person and online options for attendees.
Design
Siemens to Release Solid Edge 2021
New release includes subdivision modeling and improved reverse engineering.
All posts
All topics