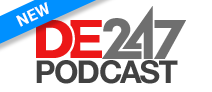 Glossary Spotlight
IoT
The Internet of Things (IoT) is a network comprised of physical objects capable of gathering and sharing electronic information through the Internet.
View IoT term
Glossary
A
B
C
D
E
F
G
H
I
J
L
M
N
O
P
Q
R
S
T
V
Digital Engineering
Featured DE Contributors
Subscribe to Digital Engineering Free E-mail Newsletters
Stay up-to-date, don't miss a single news story or product review, subscribe today.
Latest Posts
Engineering Computing
Majority of Engineering Teams May Continue Remote Work
66% of engineering firms indicate remote work will continue even after pandemic subsides.
Formlabs Expands Large-Format 3D Printing Line
Formlabs launches Form 3BL, for biocompatible printing, Wash L + Cure L, and ships Form 3L to enable engineers, designers, dental...
Promoted Post
How to Leverage High-Strength 3D Printing
Can't figure out how to integrate high-strength 3D printing into your manufacturing workflow? Try a new perspective.
Learn more.
Presented by
Prototype/Manufacture
DP Technology Enhances ESPRIT CAM System With AI Capabilities
The CAM system's AI uses a digital twin of the CNC machine, tooling and workholding to drive ESPRIT's most advanced...
Simulate
MathWorks Presents New Release 2020b of MATLAB and Simulink
Update includes expanded Simulink access, new products, major updates and hundreds of new features.
Prototype/Manufacture
NIST Scientists Go Soft on 3D Printing
New method may jumpstart the construction of tiny medical devices for the body.
Prototype/Manufacture
Materialise and Ditto Team Up to Advance Digital Technologies for Eyewear
The digital manufacturing technology makes it possible to shift from inventory-focused production to a more customer-centric approach.
Design
Podcast: Desktop Metal AM 2.0, Going Public, More
Metal AM hardware maker discusses the technology's transition from prototyping to manufacturing
Design
Can Generative Design Go Mainstream?
Software vendors have made big investments, but there are barriers to practical adoption.
Engineering Computing
Work-From-Home Workstations
Configuring the right workstation when engineering leaves the building.
Editor's Picks: Sept. 10-16, 2020
One of the picks will be chosen as DE's Editor's Pick of the Week.
Prototype/Manufacture
FREE WEBINAR: From Prototypes to Mass Production - Micro Manufacturing Reinvented
A method called Projection Micro Stereolithography (PµSL) is emerging as a new technology to produce parts at a length...
Prototype/Manufacture
3D Systems Steps in to Aid Hearing Device Maker's Workflow
Digital workflow combines Figure 4 technology and Figure 4 PRO-BLK 10 material—evolving from concept to final product in 4 days or less.
Test
Electro Rent Launches Test & Measurement Website and E-commerce Platform
Enables customers to buy new and pre-owned equipment directly online.
All posts
All topics