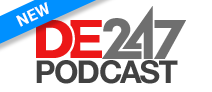 Glossary Spotlight
IoT
The Internet of Things (IoT) is a network comprised of physical objects capable of gathering and sharing electronic information through the Internet.
View IoT term
Glossary
A
B
C
D
E
F
G
H
I
J
L
M
N
O
P
Q
R
S
T
V
Digital Engineering
Featured DE Contributors
Subscribe to Digital Engineering Free E-mail Newsletters
Stay up-to-date, don't miss a single news story or product review, subscribe today.
Latest Posts
Editor's Pick: Print nylon carbon fiber parts on the desktop
MakerBot says the new material is optimized for high strength, heat resistance and stiffness. 
Design
EIZO Corporation Selects the Aras Platform to Respond to Changing Business Requirements
Visual technology provider selects Aras to advance productivity and quality through digital manufacturing.
Promoted Post
Meeting the Challenge of Product Complexity for Global Manufacturers
Using this five step blueprint to create your Digital Thread will help you manage the design, manufacture and sustainment of complex products.
Learn more.
Engineering Computing
Dell Technologies Cloud and Google Cloud Launch Hybrid Storage Solution
Dell Technologies Cloud advancements help organizations speed up and simplify deployments.
Prototype/Manufacture
Delta WASP 3MT CONCRETE 3D Printer Available
This concrete 3D printer, Delta WASP 3MT INDUSTRIAL 4.0 LDM is optimized for large 3D printing.
Engineering Computing
Dell Launches New Precision, Latitude Products
AI-based optimization technology improves productivity.
Simulate
CAASE20: Working in the Post-COVID World
As offices shutter, new doors open for remote collaboration, digital twins and 3D printing, say CAASE20 keynote speakers.
Prototype/Manufacture
MakerBot Launches Carbon Fiber Edition of METHOD X
New materials and specially-designed extruder allow for printing of carbon fiber reinforced nylon optimized for high strength and heat resistance.
Prototype/Manufacture
Materialise Launches Mindware, Advisory Service for 3D Printing 
Solution offers business managers a direct line of access to strategic, tailored advice on using 3D printing to address their...
Prototype/Manufacture
Optomec Introduces Production Automation Solution for 3D Metal Additive Repair 
Integrates laser cladding with robotic loading for autonomous batch processing.
Prototype/Manufacture
NCDMM's Dr. Dean Bartles Named to National Small Business Association Leadership Council
Leadership council advocates for America's small business community.
Prototype/Manufacture
Coronavirus Updates: Tech Shows Cancelled or Postponed Due to Coronavirus Concerns
Periodically updated list of engineering, manufacturing, and technology shows cancelled or postponed due to coronavirus concerns
Simulate
Manufacturers to Spend US$19.8 Billion on Data Management and Analytics by 2026
Data collection processes and analytical tools will offer insights into machinery health and production line optimization.
Design
Mastercam Offers Free Training and Remote Educational Curriculum
From now until June 30, 2020, users can sign up to take a full set of Mastercam core classes on Mastercam University.
All posts
All topics