Top Story
Graebert to CAD Vendors: We Can Take You to the Cloud
December 5, 2019
Graebert conference presents the company's expanded vision for the cloud-based CAD technology.
Graebert to CAD Vendors: We Can Take You to the Cloud
December 5, 2019
Graebert conference presents the company's expanded vision for the cloud-based CAD technology.
Stratasys Introduces Work Order Management Software
November 25, 2019
New GrabCAD Shop simplifies 3D printing workflow.
ParaMatters Launches CogniCAD 3.0 at Formnext 2019
November 14, 2019
ParaMatters expands Its generative design and manufacturing cloud solutions with new release.
Altium Unveils Cloud-based Application for eCAD Component Management
November 5, 2019
New software made for creation, use and sharing of component data in printed circuit board design.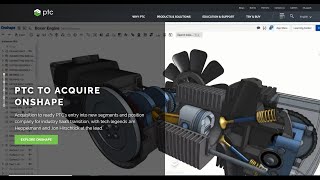 PTC Buys Onshape, xRS Brings Out Use of AR-VR in Training, More
October 31, 2019
In this episode of DE Video News Roundup, CAD and PLM vendor PTC buys cloud CAD Onshape for $470 million, xRS Conference brings out ARVR use in training, CAASE conference now open for paper proposals, DE seeks holiday-themed simulation projects to...
Sponsored Content
Modular PLM: A Successful Strategy for SMBs
October 29, 2019
The best way for SMBs to approach PLM is with a modular, sprint-based implementation, rather than rolling out an entire PLM platform at once.
Companies, Cities Adopt Use of NVIDIA EGX Edge Supercomputing Platform
October 23, 2019
This platform delivers artificial intelligence to factories, wireless networks, stores and more.
Partner Content
The Connected Workstation: More Than the Sum of its Parts
October 10, 2019
SaaS-style simulation apps and on-demand HPC change the role of the classic workstation.
CAE in the Cloud
October 10, 2019
UberCloud presents its 2019 compendium of CAE case studies.
Sponsored Content
Preparing for 5G RF Filter Design with Cloud Engineering Simulation
September 23, 2019
New OnScale white paper outlines efficient simulation-drive design of RF MEMS filters for emerging 5G applications.
Clouds Without Silos are the New Frontier for the Open Design Alliance
September 17, 2019
Open Design Alliance targets CAD interoperability in the cloud with new SDK, development platform, and other tools.
Supermicro Debuts New Edge Systems
August 22, 2019
These new Edge platforms based on Supermicro servers with optional support for Intel Programmable Acceleration FPGA cards deliver local compute and AI inferencing.
The State of Product Development According to Onshape
July 15, 2019
New report shows engineers most interested in transforming early-stage design workflows in areas like collaboration, version control and improved visibility.
Bringing the Cloud into CAD and Product Data Management
July 1, 2019
Even as vendors create cloud-based PDM, organizations still face security and interoperability concerns.
Sponsored Content
Solving The Toughest Engineering Challenges With HPC
June 5, 2019
Migrating to the cloud can enable engineers and scientists to remove engineering bottlenecks and quicken optimization cycles, providing design simulation results nearly instantly.
Latest News
Sponsored Content
OMNIS—Solving Your Toughest Industry Challenges
An end-to-end CAE environment from design to analysis and optimization.
New GPU Enters the 7nm Realm 
The graphics processing unit can do more work per watt and do it faster than the previous generation technology.
Editor's Pick: Engineering GPU with World-First Specs 
AMD Radeon Pro W5700 is a professional PC workstation graphics card designed for 3D designers and engineers using 7nm technology.
Sponsored Content
Digital Twin Accelerates Product Development
Engineer your innovations with Simcenter.
All posts