Top Story
Researchers in Denmark Apply AI to Autonomous Drones
June 6, 2019
The AiR Lab designs and prints its own drone prototypes while developing hybrid controllers.
Find out What's New in Simcenter STAR-CCM+ 2019.2
July 2, 2019
New software release gives the ability to instantly communicate the results of your simulations with information-rich videos.
Future Facilities Celebrates 10 Years of Thermal Simulation
July 1, 2019
6SigmaET has evolved over the last 10 years and now incorporates advanced unstructured gridding technology, cloud-based solving and VR integration for the Oculus Rift.
Nextflow Software Introduces Nextflow Studio
June 18, 2019
This fluid simulation software lets engineers easily manage their simulation projects and provides a graphical user interface (GUI) based on the latest software technologies. 
PSRE Co. Announces the PASS Software Academic License Program 
June 10, 2019
Smart stress and fluid flow simulation of the PASS Software now available to educational institutions.
ENGYS Releases ELEMENTS v3.0.0 Software Suite
June 6, 2019
ELEMENTS v3.0.0 is an open-source based CFD software suite for vehicle design applications.
Researchers in Denmark Apply AI to Autonomous Drones
June 6, 2019
The AiR Lab designs and prints its own drone prototypes while developing hybrid controllers.
Keep It Simple, Keep Them Coming
June 1, 2019
An easy formula for estimating cost is part of some simulation software providers' strategy.
FEATool Multiphysics MATLAB FEA Toolbox 1.10 Available
May 14, 2019
New update features an updated and fully integrated graphical user interface with built-in and interactive step-by-step multiphysics simulation examples.
COMSOL Debuts COMSOL Client for Android
April 26, 2019
New release enables engineers and students to run simulation applications from an Android device.
GE Leverages Surrogate Modeling to Slash Design Times
April 23, 2019
AI-driven approach could cut design times by half, evaluate millions of design variations in minutes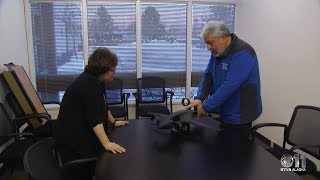 Autonomous Cargo Drone Does Heavy Lifting
March 27, 2019
Sabrewing has designed two hybrid-electric aircraft that can autonomously deliver hundreds of pounds of cargo to remote locations.
FLOW-3D v12.0 Release Features Modern Graphical User Interface (GUI)
March 25, 2019
The latest version of Flow Science's flagship CFD software features a modernized interface and streamlined workflows.
Pointwise Adds Native Interface to Design Software ESP
March 11, 2019
Although it's mostly a maintenance release, it includes new geometry model importa and user interface updates.
Use of CF-MESH+ and OpenFOAM Helps Solve Turbulent Flow Simulation Around DrivAer Vehicle
March 1, 2019
CF-MESH+ is a fully automated CFD meshing software solution that features capabilities for mesh generation in arbitrary complex geometries.
Boom Supersonic Partners with NUMECA
February 26, 2019
Boom adopts NUMECA's CFD solutions to advance development of the Overture supersonic passenger aircraft.
Latest News
Chaos Group previews Project Lavina, SimScale releases radiation simulator, Onshape recognized by World Economic Forum
In this episode of DE News Roundup, Chaos Group previews Project Lavina for real time ray tracing, SimScale releases radiation...
AMD Radeon Pro Software for Enterprise 19.Q3 Is Optimized for Professional Applications
The latest driver also continues to prove the value of updating professional drivers, with Day Zero certifications to help ensure...
Moldex3D Partners with Wittmann Battenfeld on LSR Injection Molding and Smart Manufacturing
The memorandum of understanding is aimed at bringing together both parties' extensive knowledge and technical expertise to advance the role...
Siemens Debuts More Tire Modeling Capabilities in Real-Time Environments
The Simcenter Tyre team releases MF-Tyre/MF-Swift 2019.1 with more possibilities to test with MSC ADAMS.
All posts