FREE WEBINAR MARCH 30: Generative Design for Manufacturability
February 20, 2023
In this episode of DE Roundtable, the experts discuss how to best leverage generative design in real manufacturing applications.
Technology Outlook 2023
December 27, 2022
DE readers provide a glimpse of their engineering technology usage in our annual survey.
How Would You Redesign the Star Wars TIE Fighter?
September 29, 2022
CFD experts run airflow analysis on the iconic 'Star Wars' battlecraft to dissect its aerodynamics.
3D Printing Races to Redefine Automotive Production
September 1, 2022
With customization and design flexibility top priorities, automotive OEMs are integrating AM into their manufacturing roadmaps for full-scale production parts.
Carbon Acquires Generative Design Software Maker ParaMatters
August 23, 2022
3D printer maker Carbon acquires generative design software developer ParaMatters
Generative Design Sparks Innovation
July 22, 2022
Learn more about the impact of emerging Generative Design tools and practices as a way to jumpstart innovation and eliminate much of the complexity surrounding iterative design workflows.
Reimagining the Iconic Japanese Sword Handle and Display Stand with Generative Design Tools
June 24, 2022
Japanese designer Yasuhide Yokoi collaborates with master swordsmith Masao Manabe to reshape the iconic Japanese sword handle and display stand with Generative Design software.
PTC Creo 9 Now Available
May 5, 2022
Core enhancements enable better designs in less time, company reports.
Technology Awakening
April 27, 2022
Without a doubt, technology has shaped the world we find ourselves in, made the world better, but has also left us unprepared for the world's latest series of catastrophes.
AI, Generative Design and the Next-Gen Engineer
April 12, 2022
Increasing adoption of AI, ML and generative design makes engineers curious what the technology means for the future of design.
Diabatix Coldstream 2 Coming Out
April 4, 2022
This software is a thermal optimization platform combined with built-in computational fluid dynamics.
New SolidWorks CEO Discusses AI, Generative Design, Virtual Twins
March 11, 2022
Long-time R&D veteran Manish Kumar steps up to become CEO, envisions natural interactions driven by AI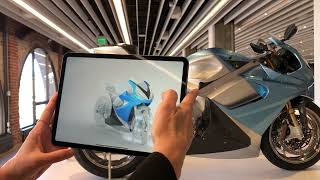 San Francisco-based Autodesk Gallery reopens
March 9, 2022
The newly reopenned San Francisco-based Autodesk Gallery exhibits highlight AR/VR apps for real-time CFD, generative design projects.
The Importance of Lattice Structure in Design Engineering
February 2, 2022
Using lattices in your design structure can expand your design freedom and help create more economical products and designs.
AI Scale-up Diabatix to Boost Growth in Generative Thermal Design
January 6, 2022
The company, which closed a funding round with Saffelberg Investments, plans to expand the growth of its ColdStream platform.
Latest News
AM Industry Enjoys Double-Digit Growth, Says Wohlers Report 2023
Additive Manufacturing (AM) industry analyst Wohlers Associates reports double-digit growth for 2023
Small But Powerful: HP Z2 Mini G9
This updated mini workstation delivers eye-catching performance.
Lantek Launches EdgeLine Bevel Module
The EdgeLine Bevel module powered by Lantek Expert Cut simplifies programming and streamlines CNC programming of modern TRUMPF cutting machines,...
SPEE3D to Work With British Army
Company will collaborate to develop British Army's additive manufacturing capabilities.
All posts