Top Story
HP ZBook 14u G6 Mobile Workstation: Compact Road Warrior Workstation
December 1, 2019
This new 14-in. workstation is a great choice for on-the-go engineers.
AMD Radeon Pro W5500 Workstation Graphics Now on Market
February 11, 2020
AMD RDNA architecture, 7nm process technology and advanced software features offer multitasking performance, energy efficiency, and stability to power 2D and 3D professional design applications.
BETA CAE Systems Releases Version 20.1.0 of ANSA/EPILYSIS/META Software Suite
January 9, 2020
The v20.1.0 release features more efficient process streamline and acceleration.
AMD Unveils Four New Desktop and Mobile GPUs
January 7, 2020
The new AMD Radeon RX 5600 series lineup includes the AMD Radeon RX 5600 XT graphics card,  available in custom designs from AMD board partners.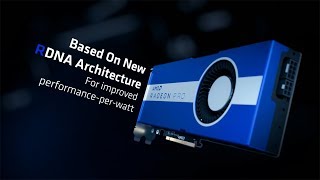 New GPU Enters the 7nm Realm 
December 11, 2019
The graphics processing unit can do more work per watt and do it faster than the previous generation technology.
Sponsored Content
Editor's Pick: Engineering GPU with World-First Specs 
December 11, 2019
AMD Radeon Pro W5700 is a professional PC workstation graphics card designed for 3D designers and engineers using 7nm technology.
HP ZBook 14u G6 Mobile Workstation: Compact Road Warrior Workstation
December 1, 2019
This new 14-in. workstation is a great choice for on-the-go engineers.
Getting Graphic
December 1, 2019
Intel is joining the discrete GPU market. Here's how to follow the latest news and announcements from the chipmaker.
NVIDIA Announces Scalable GPU-Accelerated Supercomputer in the Microsoft Azure Cloud
November 21, 2019
New Microsoft Azure NDv2 supersized instance can scale to hundreds of interconnected NVIDIA Tensor Core GPUs for complex AI and high-performance computing applications.
AMD Launches 7nm Professional PC Workstation Graphics Card
November 20, 2019
AMD Radeon Pro W5700 graphics card harnesses high-performance AMD RDNA architecture, process technology and enterprise-grade software to help professionals increase productivity and more.
Newest Apple MacBook Pro Features AMD Mobile GPUs
November 14, 2019
AMD Radeon Pro 5000M Series mobile GPUs bring high-performance AMD RDNA architecture to Apple's new 16-in. MacBook Pro
SPECapc Releases New SolidWorks Benchmark
October 24, 2019
The benchmark is designed to run on Microsoft Windows 10 64-bit platforms. 
GMS' New Server and AI Engine Set Made for Next-Gen Army Vehicle and Airborne Systems 
October 15, 2019
The vehicle-mounted server combo is ideal for applications requiring massive computation and sensor fusion, the company says.
Boutique Computer Maker Releases Cutting Edge Visualization Notebook
September 11, 2019
BOXX Technologies GoBOXX SLM-17 is a slim notebook workstation that complies with the new NVIDIA RTX Studio Laptop specification.
Affordable Power: A Tale of Two Dells
September 1, 2019
We evaluate Dell's Precision 3540 and 3541 mobile workstations.
Global GPU Shipments up in Q2'19 reports Jon Peddie Research
August 30, 2019
This is the latest report from Jon Peddie Research on the GPUs used in PCs, reporting on the results of Q2'19 GPU shipments worldwide.
Latest News
Editor's Picks: Feb. 13-19, 2020
One of the picks will be chosen as DE's Editor's Pick of the Week.
Award Honors Engineers' Innovation Using MSC Nastran
MSC Nastran is a simulation tool used across numerous industries—from aerospace to medical technology.
America Makes Names New Executive Committee
The Institute and its membership community welcomes 11 additive manufacturing leaders to serve in advisory capacity.
Finalists of Design for Additive Manufacturing 2020 Named
From a record number of 151 contestants, professionals and students, three finalists were selected per category.
All posts