Top Story
PTC Advances Closed Loop PLM
December 5, 2022
Acquisition of ServiceMax keyed to integration of asset and field service management capabilities to extend digital thread.
Siemens Realize LIVE 2023: Industrial Digital Twins Built in Xcelerator
June 21, 2023
At Siemens Realize LIVE 2023, company reveals vision centered around its SaaS, cloud-hosted Xcelerator Portfolio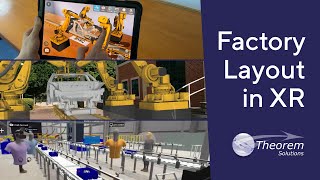 Bridge the Gap Between Digital and Physical by Using XR for Planning and Layout
December 13, 2022
Using Extended Reality (XR) is helping to bridge the gap between the digital and physical when creating and planning factory and plant layouts.
PTC Advances Closed Loop PLM
December 5, 2022
Acquisition of ServiceMax keyed to integration of asset and field service management capabilities to extend digital thread.
3D PDF Insights From the Theorem Experts
July 21, 2022
We recently sat down with our UK Account Manager Clair Baxter, and US Account Manager Matt Pongratz to discuss 3D PDF, and the major benefits it can have for those working in engineering and manufacturing.
Transporting PLM to the Cloud
December 1, 2021
Cloud-based PLM can provide the flexibility and accessibility needed for digital transformation.
PLM Modernization Linked to Digital Transformation Success
June 17, 2021
CIMdata study charges that deferred PLM upgrades delay time-to-value and inhibit digital-era business strategies.
Autodesk Fortifies Cloud PLM Position
April 26, 2021
Upchain acquisition bridges gap between data management and process management technologies in an effort to boost product development collaboration.
Aras Unveils New Deployment Options
April 23, 2021
Innovator suite will be available in new SaaS configurations, and with Linux support.
Vertex Names Digital Transformation SVP
March 3, 2021
Shreekanth Moorthy will oversee digital transformation, business development initiatives.
Making Connections for Digital Thread
January 4, 2021
APIs and data standards help PLM move forward and break down information silos.
PTC Fortifies SaaS Position With Arena Acquisition
December 27, 2020
With its Onshape and Arena acquisitions, PTC aims for a soup-to-nuts CAD and PLM SaaS offering.
Product Design: What is Next?
December 1, 2020
Onshape founder John McEleney Takes a look at the future of design software.
The Modern Face of SPDM
November 19, 2020
As simulation-driven design becomes a core pillar of digital product development, a refreshed simulation product data management emerges.
Translate Your 3D CAD or Create Lightweight 3D or Use it For Multi-CAD
July 20, 2020
Extend the value of your 3D CAD data by translating it in order to support your downstream processes or to share design data with your suppliers and partners.
Aras Tightens Up the Digital Thread
July 8, 2020
Dynamic Product Navigation lets users visually display product data based on business attributes for greater context.
Latest News
Carbon Shares Platform Improvements
Company introduces new EPU 46 resin with color options.
COMSOL Announces Program for COMSOL Day: Aerospace & Defense
The event will explore multiphysics simulation applications and modeling topics supporting innovation and design in the aerospace and defense industry.
Keysight Highlights EDA 2024 Integrated Software Tools
This integrated EDA software is designed to increase productivity for engineers developing high-speed products in multiple applications, the company reports.
3D Systems Partners with Klarity
Klarity Prints, powered by 3D Systems, is a service-based line of 3D-printed radiotherapy accessories.
Altair Takes Home Awards from Fortune, Newsweek
Altair has been named to two lists that recognize companies that put employees first, Altair reports.
US DoD Deploys SPEE3D Printers to Ukraine
SPEE3D supplies 3D printers and training for Ukrainian soldiers and engineers to manufacture and repair military equipment in the...
All posts