Top Story
Accelerated Rendering: Seeing is Believing
August 7, 2020
Iray-based rendering unlocks new possibilities for designers in Siemens NX.
Intel Embree Wins Scientific and Technical Academy Award
February 8, 2021
Intel's open-source ray-traced rendering application Embree impressed the Academy of Motion Picture Arts and Sciences
Sponsored Content
GPU-Accelerated Visualization Makes its Mark
January 19, 2021
More software solutions are taking advantage of real-time ray tracing and enhanced visualization made possible via the GPU.
Siemens Updates Parasolid
December 21, 2020
Convergent Modeling paradigm becomes core to Parasolid technology.
Luxion Releases KeyShot 10
November 23, 2020
KeyShot 10 adds new ​Keyframe Animation and other animation capabilities, new ​Smart Export options for output to full-color 3D prints, AR/Web interaction and more.
Sponsored Content
STK Professional
August 27, 2020
The unrivaled digital mission engineering and digital mission operations platform.
SIGGRAPH 2020: A Peek Behind LAIKA's Stop Motion Magic
August 25, 2020
Oscar-nominated stop-motion film studio discusses how AI and Machine Learning accelerate rotoscoping
SIGGRAPH 2020: Intel Launches oneAPI Rendering Tool Kit
August 24, 2020
CPU leader Intel eases into the GPU-dominated rendering market with with new offering oneAPI Tool Kit
Sponsored Content
Accelerated Rendering: Seeing is Believing
August 7, 2020
Iray-based rendering unlocks new possibilities for designers in Siemens NX.
Editor's Pick: One License Offers Access to an Entire Rendering Portfolio
June 24, 2020
Chaos Group V-Ray Collection offers instant access to the latest versions of V-Ray, Phoenix FD, Project Lavina and the high-res material library, VRscans, on the same machine.
Chaos Group Launches V-Ray Collection
June 16, 2020
Fifteen Chaos Group products with one license; easy access to V-Ray 5, Phoenix FD.
Sponsored Content
Acceleration of Real-Time Rendering in Design
June 12, 2020
Faster GPUs and real-time raytracing are making it easier for engineers to enable visualization throughout the design process.
ODA Adds Shadow Support to Visualize SDK 
May 29, 2020
Visualize SDK offers more realistic scene rendering for engineering applications.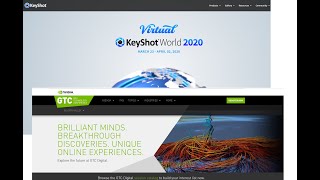 NVIDIA GTC and KeyShot World Go Virtual, 3D Printing Rushes to Produce PPE, More
March 26, 2020
Tech conferences switch to virtual events under lockdown, additive manufacturers spring into action to fight virusoutbreak
KeyShot World 2020 Virtual Launches Amid COVID-19 Lockdown
March 23, 2020
KeyShot World 2020 switches to virtual event.
Velocity Micro Announces Immediate Availability of Revamped Product Line
November 27, 2019
New processors from both AMD and Intel represent significant enhancements to Velocity Micro's product line, according to company.
Latest News
Siemens Expands Partnership with EOS
Through this agreement, EOS North America will be able to resell Siemens' software solutions for additive manufacturing (AM) with its...
Fraunhofer IGD Develops Automated Robotic Arm
The mobile scanner CultArm3D delivers 3D models of exhibits of various sizes at the push of a button, according...
3D Printing Deployed in the War on Head Lice
Enventys Partners, Stratasys leverage additive manufacturing to reduce costs, design constraints and lead time on new head lice treatment.
Editor's Picks: Feb. 18-24, 2021
One of the picks will be chosen as DE's Editor's Pick of the Week.
All posts