Sponsored Content
Gain Operational Efficiency Through Low-Code Development
May 18, 2020
To help organizations get started with this approach, low-code platform provider Quick Base offers a 30-day free trial of its solution.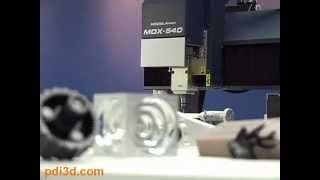 Sponsored Content
Rapid CNC Prototyping—On the Desktop
February 3, 2020
Product Development Inc. has put together an article and infographic explaining exactly how the line of Roland desktop prototyping CNC machines the company offers can eliminate many of the pain points involved in this process.
Sponsored Content
Preparing for Industry 4.0
January 21, 2020
The shift to digital manufacturing will require a mix of new technology to enable increased integration and automation.
Sponsored Content
Preparing for 5G RF Filter Design with Cloud Engineering Simulation
September 23, 2019
New OnScale white paper outlines efficient simulation-drive design of RF MEMS filters for emerging 5G applications.
Sponsored Content
Reverse Engineering in a Digital World
September 23, 2019
Reinventing the wheel has become a whole lot easier.
Sponsored Content
Choose the Right Mobile Workstation for the Job
July 25, 2019
How mobile workstations are tailored to the workloads of the professionals who need them most.
Design Engineering Teams Choose Process Over Products
July 23, 2019
The State of Product Development & Hardware Design 2019 survey results contain some surprises.
Sponsored Content
Building a Gateway to the Moon and Beyond
May 13, 2019
See how Protolabs is helping with Lockheed Martin's work on NASA's Gateway lunar orbiter project.
Simulation Unbound
May 6, 2019
Siemens Simcenter Webapp Server lets you share system simulation with anyone.
Sponsored Content
Advancing the Simulation Revolution
May 6, 2019
Join thought leaders at the ASSESS Congress to advance a multi-industry initiative to expand and improve the use of simulation software.
Sponsored Content
Boost Productivity with Online Design Tool
May 1, 2019
Engineeringtool from item makes it easy to design and build kits for custom solutions.
Sponsored Content
Order Up: CFD Analysis to Go
April 30, 2019
COMSOL just took another step to make simulation accessibility even easier for more people.
Sponsored Content
How to Keep Pace with 3D Printing Technology
March 6, 2019
Prototyping and Manufacturing Services to Help Satisfy Modern Market Expectations eBook explains the benefits of outsourcing 3D printing design engineering work.
Sponsored Content
Maintain Your Engineering Core
March 5, 2019
Flexibility combined with power and expansion options make workstations the center of a design engineering workflow.
Sponsored Content
Detailed Design Reinvented by Graphical Computing
February 7, 2019
A re-engineering of design workflows is underway as visualization and simulation move into product development's earliest phases.
Latest News
Editor's Pick: Print nylon carbon fiber parts on the desktop
MakerBot says the new material is optimized for high strength, heat resistance and stiffness. 
EIZO Corporation Selects the Aras Platform to Respond to Changing Business Requirements
Visual technology provider selects Aras to advance productivity and quality through digital manufacturing.
Dell Technologies Cloud and Google Cloud Launch Hybrid Storage Solution
Dell Technologies Cloud advancements help organizations speed up and simplify deployments.
Delta WASP 3MT CONCRETE 3D Printer Available
This concrete 3D printer, Delta WASP 3MT INDUSTRIAL 4.0 LDM is optimized for large 3D printing.
All posts