Top Story
Seeking Misbehaving Virtual Drivers
May 30, 2023
Simulating accidents in mixed reality is a critical step for the future of autonomous vehicles.
Theorem Solutions Unveils Extended Reality Offering
August 4, 2023
In this release, augmented reality users can now benefit from new embedded QR Code features, which allow for model loading. 
Utilizing Extended Reality & IIoT in Manufacturing
July 12, 2023
The manufacturing industry is poised to leap forward with the advent of extended reality technologies and the integration of the IIoT. Both offer the potential to increase efficiency, improve employee training, and better track materials.
AWE 2023: Mixed Reality Woos Metaverse
June 9, 2023
At AWE 2023, invisible laptops, kitchen design in mixed reality, the hardware makers' race to capture the metaverse, more
Lenovo ThinkReality VRX Is Now Available
June 2, 2023
Virtual reality headset comes in a compact form factor with mixed reality capabilities for immersive training, collaboration and 3D design.
Seeking Misbehaving Virtual Drivers
May 30, 2023
Simulating accidents in mixed reality is a critical step for the future of autonomous vehicles.
Challenges of Building Out A Live Digital Twin
November 11, 2022
Digital twin technology has developed over time, but what do organizations need to ensure real-time metrics?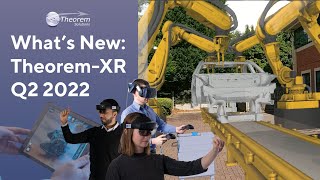 Augmented, Mixed or Virtual Reality
August 24, 2022
The adoption of extended reality (XR) technology in engineering and manufacturing is accelerating at a rapid pace. But what is XR and what are its benefits? Theorem Solutions explains.
AR, MR or VR: Which Technology is Right for your Engineering Use Case?
July 26, 2022
Augmented, Mixed or Virtual Reality? This is a key question. You will need to understand the features and benefits of each technology type before looking to build and implement your XR strategy.
Enter the Holodeck: Designing in a Virtual World
November 15, 2021
The gaming industry has long been big business, but thanks to virtual reality technology, it is now taking us where no one has gone before. Are product design and manufacturing the next frontier?
Editor's Pick: Upgrade to Mixed Reality 3D CAD Viewing Suite
May 5, 2021
Theorem Solutions Theorem-XR Suite update offers support for HoloLens 2 and the Microsoft Azure Remote Rendering (ARR) engine.
Playing Games Saves Lives
January 27, 2021
VR and gamification improve workplace safety and enhance productivity.
Virtual, Mixed Reality Market to Reach $30 Billion
July 22, 2020
New IDTechEx report looks at COVID-19 impact on VR adoption.
Redesigning CAD for Mixed Reality
February 1, 2020
Break old habits while inventing new practices at the same time.
Mixed Reality Moves Beyond the Cool Factor
February 1, 2020
As hype subsides, practical use cases emerge.
Mindtree Launches an Immersive Technologies Experience Center in Collaboration with PTC
December 27, 2019
Immersive Aurora facility provides opportunities to enhance customer experience across augmented, virtual and mixed reality touchpoints.
Latest News
Can AI Boost Design for Additive Manufacturing?
October 26: Design & Simulation Summit keynote panel to explore how artificial intelligence can improve design for additive efforts.
Cortona3D RapidAuthor 14.3 Debuts
Features include new Applicability Editor, automatic generation of IPC Pages from ModelView in PLM XML, composite illustration, enhanced 2D authoring...
Greg Morris Chosen for AMUG Innovators Award
The Innovators Award will be presented at the 2024 AMUG Conference.
CAD Exchanger 3.22.0 Now Available
This latest version is part of the software suite for 3D CAD software developers and end users.
ASSESS Summit 2024 Announced
Top-level figures in industry, government and academia will come together at next year's summit in Georgia.
Latest Wohlers Report 2023 Available
Report offers analysis, trends, forecasts, 3D printing and additive manufacturing state of the industry.
All posts